The thirteenth Leamington Music Winter Season follows the successful pattern that has evolved since the 2006 launch.  There are twenty concerts in all and a significant number of the visiting musicians will take part in the Education Programme that connects with the season.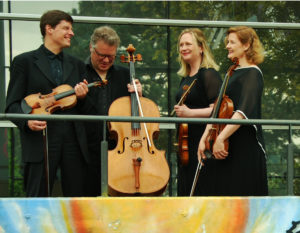 In the Investec International String Quartet series at the Royal Pump Rooms all six quartets have given at least five concerts in Leamington, so we welcome old friends who know what a special audience in such an outstanding venue awaits them.  There are quartets from Germany, the Czech Republic and Poland as well as three well established British based quartets. Programmed around the core Classical and Romantic repertoire, there are works by Britten, Bruckner, Philip Glass, James Macmillan, Arvo Part, Schulhoff, Shostakovich and Szymanowski to add to the audiences' enjoyment. 
St Mary's Church Warwick provides another wonderful setting for the monthly early music series that has built a national reputation for over nearly twenty five years now.  With music covering five centuries and encompassing not just England and the European continent, but in February and March, with the K'antu Ensemble and Ex Cathedra embracing Spain and South America, audiences have an exciting range of programmes to choose from.  The York Waits and Stile Antico are regular visitors to Warwick; Sirinu and The Musicke Companye have not been in the town for some years.
The eight other concerts using seven different venues build on this exciting range of musical experiences.  The winners of the 2018 Leamington Music Prize, Roza Bene on harpsichord and the Inventus Wind Quintet will be new to our audiences.  Klezmer with Kosmos, Hardy with Mellstock, further Christmas treats with Clare College and then in the New Year, Roderick Williams still championing Schubert, plus Ensemble 360's Sunday double – Family Concert in the morning and in the large scale chamber music in the afternoon, a repeat of their inspired Schubert Octet of 2016.
Richard Phillips MBE, Festival Director