Sacconi Quartet with Emma Abbate (piano)
28 April 2022 at 7:30pm
£17 – £25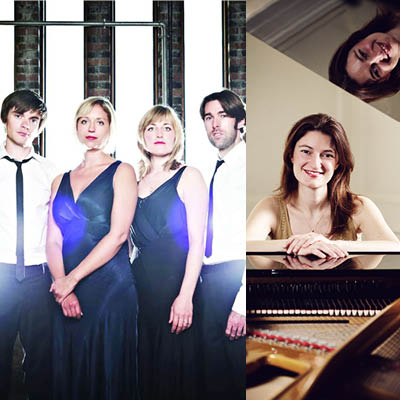 Sacconi Quartet
Ben Hancox and Hannah Dawson violins
Robin Ashwell viola, Cara Berridge cello
with Emma Abbate piano
Vaughan Williams   String Quartet No 1 in G minor
Ravel   String Quartet in F
Elgar   Piano Quintet in A minor Op 84
We begin the 2022 Festival with a relatively rare gem from Ralph Vaughan Williams. RVW wrote his First String Quartet in 1908 after studying with Ravel for three months; it seems only natural, therefore, to pair this work with Ravel's only Quartet which was completed in 1903.
Both RVW and Ravel served in World War I in non-combative roles, as ambulance crew and lorry driver respectively. Elgar's great period was also the years before and during the Great War, writing patriotic music and following with his three great chamber works including the Piano Quintet of 1918.
The Sacconi Quartet return to Leamington after a superb opening concert of the Autumn Season and Emma Abbate, originally from Italy and now a professor at the Guildhall School of Music and Drama, makes her Leamington Music debut in this fine Festival opener.
Tickets: £25 reserved centre | £17 unreserved sides
Related Events