The eighteenth Leamington Music Winter Season is underway!
We began the International String Quartets series in the Royal Pump Rooms with the latest winners of the London International String Quartet Competition. The Leonkoro Quartet from Berlin joins the list of winners that have impressed our audiences since 2006. The monthly series also sees the Calidore Quartet from USA and the Dudok Quartet from Holland here for the first time. The three British-based quartets joining us this season have all proved popular with Leamington audiences, with the Consone and London Haydn Quartets playing on gut strings and the Carducci providing a strong finish in March.
The Early Music at St Mary's Warwick series sees an even bigger time span than usual. It started with Ex Cathedra singing the Vespers of Rachmaninoff written in 1915 and goes back to the fourteenth century with Stile Antico – this equally wonderful ensemble bringing its programme inspired by Dante's Divine Comedy. The Classical period is represented by Haydn with the Valencia Baryton Trio offering a rare opportunity to hear the exotic baryton played here and, for Baroque, we go to the Sun King's reign in France with Ensemble Molière. A concert commemorating the 400th anniversary of the death of William Byrd was always obligatoire and the Chelys Consort of Viols with Helen Charlston mezzo-soprano did this with great style. And, in welcoming back Joglaresa for the Christmas concert, we travel all over the British Isles, harking back to various historical periods.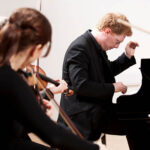 The musicians in both these series are a mix of internationally-established groups and outstanding younger soloists and ensembles, all destined for great careers. And to add to the range of musical styles and works there are the extra concerts that make up the full season – brass bands, a genuine tango group, the young trio who are the 2023 Leamington Music Prize Winners and the annual Ensemble 360 Sunday double header at the Royal Spa Centre. Bring the young children to The Chimpanzees of Happytown in the morning and (here's a good tip) discover a work that you didn't know – Dohnányi's Sextet or Martinů's Nonet – in the afternoon.
The whole season is filled with wonderful music that you can enjoy because you know it, or equally have the thrill of making discoveries!
But we need your help to safeguard our future and allow us to keep programming for years to come – please visit our gofundme page and add even just a little to our total…