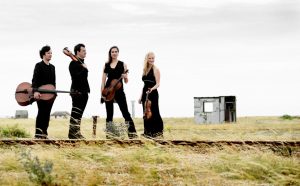 As we speed through November, we have already enjoyed the first  two concerts in the Investec International String Quartet Series. The season opened on 6 October with an explosive entrance by the dynamic and poetic Navarra Quartet which last played here in 2010. This Anglo-Dutch quartet came direct from the Hatfield House Music Festival and stayed here for three days, giving workshops in schools in Hatton, Hampton Lucy, Leamington and Warwick.
The Navarra Quartet made its debut in Warwickshire when still at the RNCM in Manchester, performing in 2003 in Over Whitacre as part of the Concerts in Warwickshire Churches series and this was the Quartet's fourth concert for Leamington Music.
For this concert, the quartet brought us the following programme:
Haydn Quartet in E flat Op 9 No 2
The Opus 9 set of six quartets was the first of nine sets of six that Haydn put together, either for publishers or commissioners. The quartets date from the late 1760s and were first published in Amsterdam in 1771. There had been compositions for violins, viola and cello even before Haydn started to write divertimenti a Quattro in the 1750s. In later life he said he wanted his series of quartets to start with Opus 9. Opus 17 followed in 1771 and Opus 20 in 1772. (All six Opus 20 quartets have been programmed by Leamington Music, but the first from Opus 17, No 2, will be given by the London Haydn Quartet in March.)
The Opus 9 set has some brilliant writing for the first violin and this was almost certainly due to the presence of the young leader of the Esterhazy Orchestra, Luigi Tomasini. (Haydn would have played second violin to him in quartets.) The leader in No 2 soon goes into the stratosphere, only for the motion to be suspended, moving towards a haunting pianissimo. The movement ends however with what has been described as "a flurry of skittering triplets". The minuet that follows has a Mozartian feel to it, suave and with some interesting inner chromatic lines. The Adagio has a rhapsodic opening seemingly improvised but with a change to triple metre, the leader is gifted a sorrowful song, which would be at home in the opera house. The finale has a catchy, syncopated theme which returns at the start of the development and we can enjoy Haydn's wit, which is a major factor in setting him apart from all other composers of quartets. It all leads to a bout of gleeful repartee as the quartet comes to a conclusion.
Shostakovich Quartet No 5 in B flat Op 92
Shostakovich's Quartet No 5 dates from the Autumn of 1952. It was premiered in Leningrad in November 1953 by the Beethoven Quartet, to which it is dedicated. The Quartet is played without a
break and it grows from a five note motif C-D-Eflat-B-Csharp, which contains the composer's initials DSCH. He was to use the same device in his Quartet No 8 and Symphony No 10. The fifth Quartet is one of Shostakovich's most rigorous and unyielding works. The opening adagio is of symphonic proportions completely fulfilled in its driving energy and dense writing. It moves through a mysterious passage using harmonics into the central andante, a haunted vista of slow moving, tenuous simplicity and concerted writing. In the middle, in the exquisite second section, there is one of the loveliest moments in all his works to look forward to. The finale starts with a slow waltz which turns into a massive climax and themes from all three movements are used before subsiding to a quiet but still tenuous close. The final bar of Shostakovich's third, fourth and fifth quartets are all marked morendo.
Schubert Quartet in G D887
When you have finished listening to Schubert's Quartet in G, which takes over three quarters of an hour to play, will you believe that he wrote it down in just ten days in late June 1826? It is a work of considerable dimensions, with the first movement in particular making its mark. The poignant mood foreshadows the first movement of the String Quintet in C written only months before Schubert died. The music is questioning, rhythmically nervous and yet there is serene beauty in the sighing motifs. Except for two stormy interludes, the slow movement is dominated by a melody of heavenly calm and yet there is an undercurrent of menace. In the urgent scherzo, nervous repeated notes predominate, only to contrast with the song-like trio, a Ländler-like tune that has something of a barcarolle about it. If the first movement is a harbinger of the Quintet in C, the last movement looks back to the Death and the Maiden Quartet. Both assume the form of a tarantella, the whirling southern Italian dance in 6/8 time. The dance eventually dies down and the work ends, after references to the Andante, with a simple recitative-like cadence. Schubert never heard a public performance of this great work. He played viola when it was played privately in the home of a friend and just the first movement was included in the only all-Schubert programme to be given in his lifetime in March 1828. The first public performance was given in 1850 by the Hellmesberger Quartet and publication, as Opus 161, by the house of Diabelli in Vienna, followed in 1851.
When Haydn was born, Bach and Handel were aged 47 with major works – and in Handel's case many operas – under their belts, but baroque music had another thirty years to run. Haydn was in his late 30's by the time he had satisfactorily modelled the string quartet. Shostakovich lived to nearly seventy and had time to compose his fifteen quartets and symphonies. Schubert was one of a number of composers who died far too young, but if he had had his three score years and ten, how would we have dealt with 1200 songs, 18 symphonies, perhaps 15 quartets, other chamber works, plus more solo piano and piano trios? He might even have had some success in the opera house.     Richard Phillips, October 2017
You may be interested in some further listening prompted by this wonderful programme and Presto Classical recommended the following recordings:
The Haydn has been recorded by the London Haydn Quartet on Hyperion (CDA67611) and the Kodály Quartet on Naxos (8550787) – both of these superb ensembles will appear later in our Winter Season too! The Kodály on Thursday 30 November (tickets available online here) and the London Haydn on Friday 9 March (click here to book).
The Shostakovich comes as part of the much-celebrated complete set by the Brodsky Quartet on Teldec (2564608672), the quartet which gave such a memorable concert in our last Winter Season. The Atrium Quartet re-opens the season in the New Year on Friday 26 January with No 12 (click here for tickets) and has committed No 5 to disc on the Zigzag label (ZZT080702).
The Schubert has also been much recorded over the years by quartets including the Kodály Quartet (Naxos 8557125) and The Lindsays (ASV CDDCA661). Another ensemble appearing recently in Leamington, The Doric Quartet's Schubert series has been highly praised, and their recording of this quartet on Chandos (CHAN10931), which wasrecently shortlisted for a Gramophone Award, is an "incisive, imaginative account" (The Sunday Times).
The Navarra Quartet have appeared on a number of discs, including a recent disc of songs by Pavel Haas on Resonus Classics (RES10183), which received a 5-star review from BBC Music Magazine: "from joy to despair, every  emotion is here in subtle colours". Also worth exploring is their recording of quartets by Peteris Vasks on Challenge Classics (CC72365) and Haydn's Seven Last Words of Christ on the Cross (Altara ALT1040-D), both of which are available to download only.
Look out for Part 2 of this blog post, coming up shortly…